Hi all.. I'm back & I have new photos to show you. Took these at the 'not so new' Marina Bay Seafood Restaurant at Tanjong, Miri. I can say Val's a natural at posing in front of the lens. The minute my D300 was 'tuned', her poses almost melt my lens...HOTS! Okay, I was a bit exaggerating on the melting part. Anyway..these shots were taken using my new AF-S 18-200mm Nikkor f/3.5-5.6G ED DX VR lens. The Nikkor 70-200 mm F2.8 VR would have been better but will see...probably someone might wanna donate one for me to 'play' with someday.

So..why I picked the Marina Bay Seafood Restaurant as the site for this photo shoot? Well, not until you go there, only you'll realize how unique and beautiful the Balinese carvings & authentic workmanships are. From the info I was told by a good friend, the workers were brought from Bali to specially built the place (the woodwork of course). The seafood are flown alive from everywhere around the world. Not just that, the ambiance while dinning is simply intriguing, captivating, absorbing with the sea neighboring it...basically, you have to experience it yourself lah. Okay enough said. Call Devan at 012-288 0445 for your scrumptious evening kay!

Bah...Since I've not been talking to you for the past 1 month, excuse my 'long letter' this time kay. Now, back to Valerie.. After her make-up session which took about 2 hours with Carol (our make-up artist), we headed straight to the location (mentioned above) and got Valerie to change into her first outfit. The black & gold 'cheongsam' blends well with the carvings. Most of the shots were taken at the restaurant's entrance. With her second & third outfits (bikini's), we shot outdoor & this is where a reflector was used. Frasier assisted me this time. Since its a bit bulky to have a softbox outdoor due to many changes of location, a reflector is sufficient for these shots. Do be advised, we also use the reflector indoor. Bounce method was use the whole period. One quick & fun photo session we had.

She flew the same evening to KL to catch another photo shoot the following day. Enjoy yourself girl!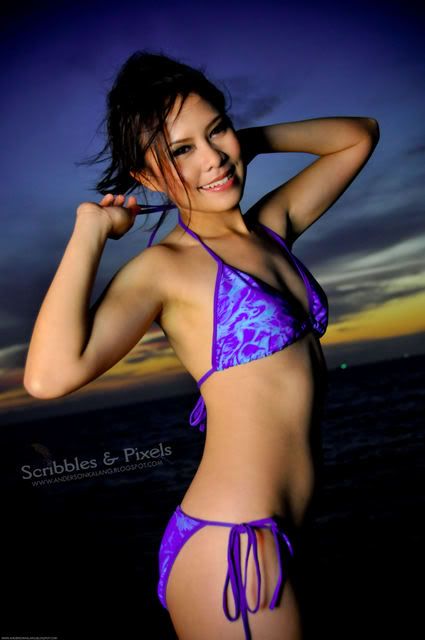 ..and finally, a shot by Lili of the photographer (of course me lah) & the model.



Click HERE for more photos in my Flickr gallery. To Val, all the best in the modeling industry. KL sure is lucky to have you along with the many talents there. Glad to be a part of your portfolio. Cheers!