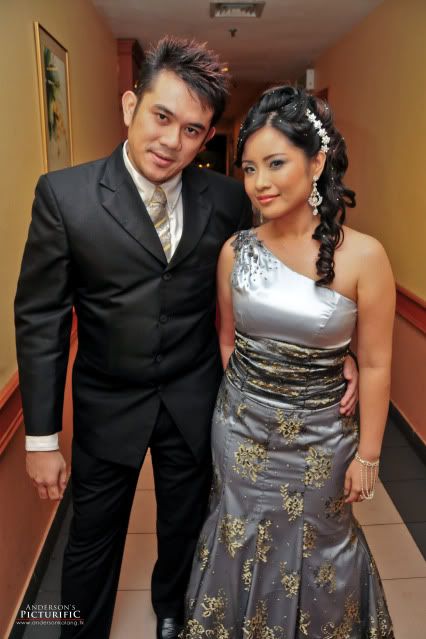 Hi all.. I was in Kuching over the Gawai holidays. This time, we attended Vincent & Miriam's 2nd wedding reception. Located at Kuching Park Hotel, Vincent's family & friends sure showed us how to party...HARD!! and I (the photographer) was not excluded during the 'sadong' (drinking) sessions. On the evening itself, Miriam looked 'grand' with her custom made imported from Miri evening gown, while Vincent was no joke, 'Smashing' in his suit! This is one wedding reception I'll never forget.

To Vincent & Miriam, thank you for having us and the time spent with you guys in Kuching. It was a great opportunity to visit the city again after many years. Thanks for making it Jenn's first time to Kuching too. Places you guys brought us for the yummy noodles and Vincent's family hospitality, Jenn & I very much thank you all.

WOW! We've gone thru it all, right guys! From your outdoor E-sessions, Engagement Dinner, Wedding Ceremony, Wedding Reception in Miri and finally your Kuching Wedding Reception. All the moments & happenings around you both, I'm thankful for this amazing opportunity to 'Picturic' it all for you! Best wishes & fun marriage to the both of you again & again kay..

To all the cousins, uncles, aunties, 'akik' & 'enik', gonna miss our dance floor havoc laa! Gud thing I have em in pictures!! Uuuuuuuhhhaaa!!!

Here are some of the highlights from the evening. I bet everyone will enjoy these picks as much as I have enjoyed taking them... Oh yeah!! VERY MUCH!! Feel free to play a dance beat while browsing these... kay folks! Cheers!!

In front of the Kuching Park Hotel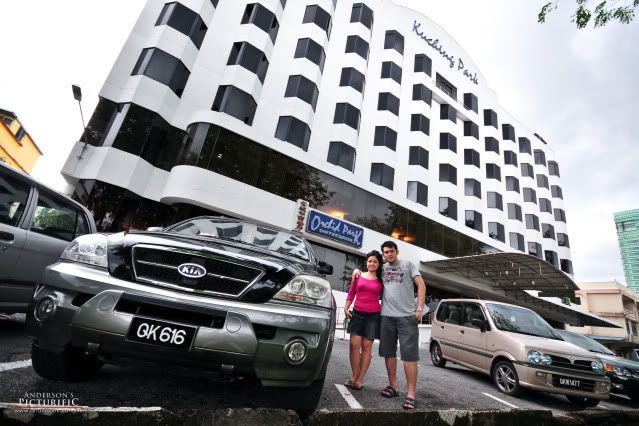 Make-up in progress..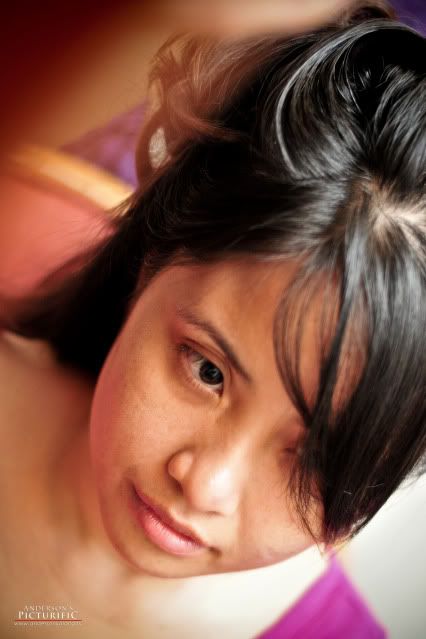 They even use my earlier shot of their E-session as their wallpaper.. How sweeet!! tsk..tsk..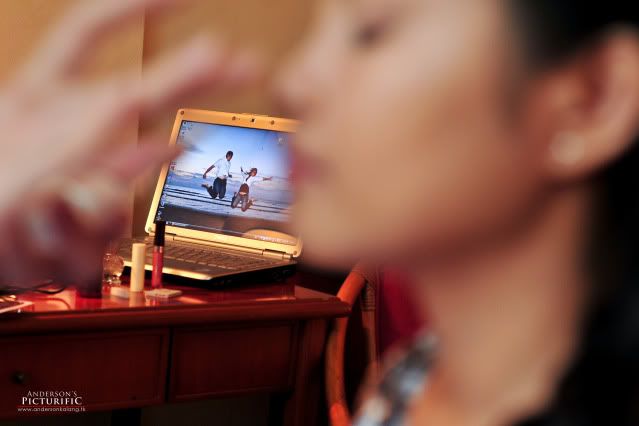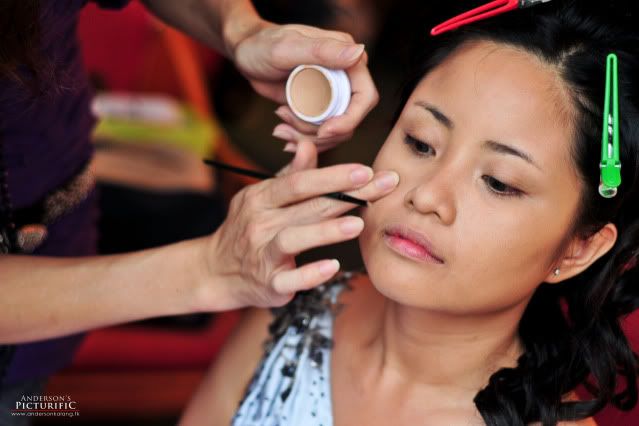 Then we proceed to the VIP Dinning Table...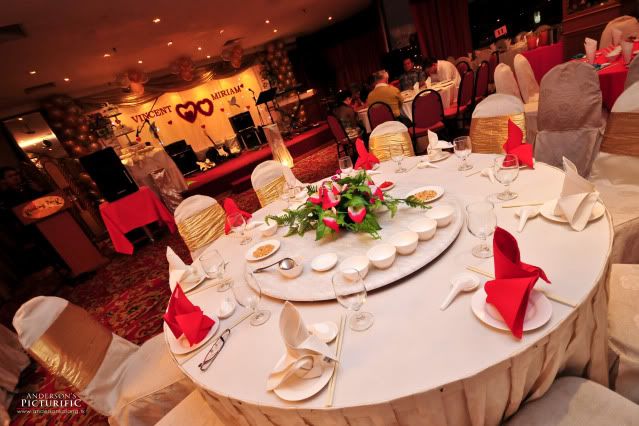 Miriam with her bling bling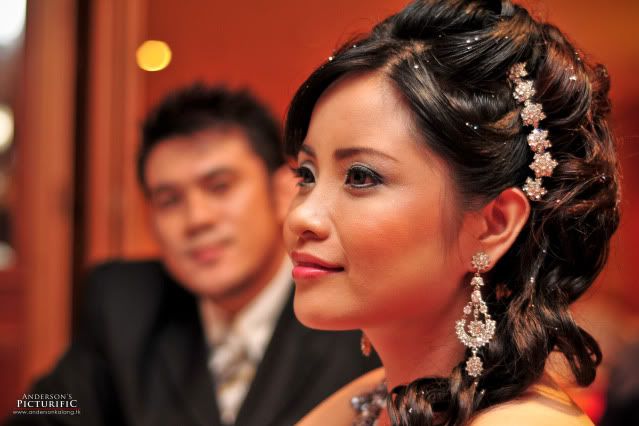 Vincent's dad inspired by the opening speech from the Emcee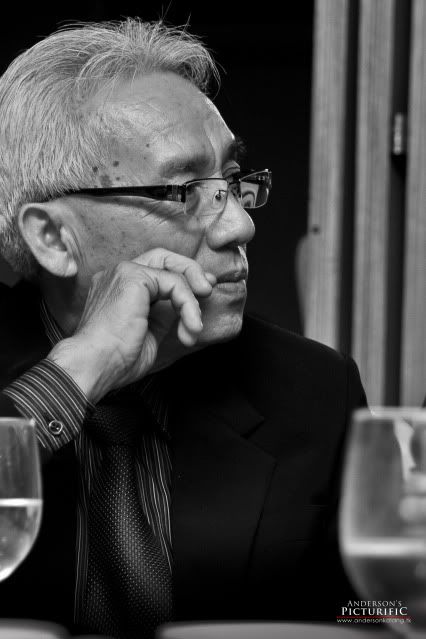 Of course, the 'Champagne Glass Tower', folks..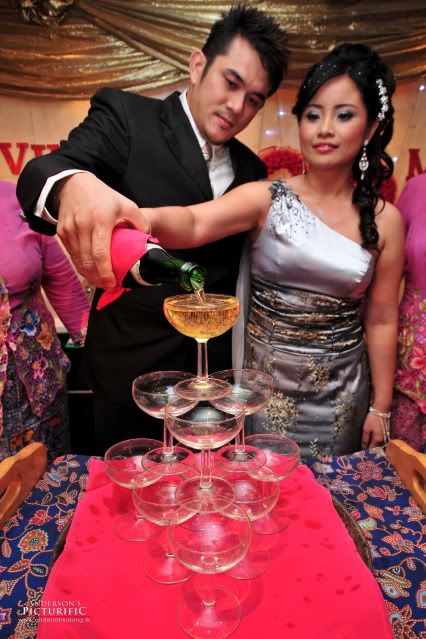 After a few sway of slow dance, the floor breaks loose!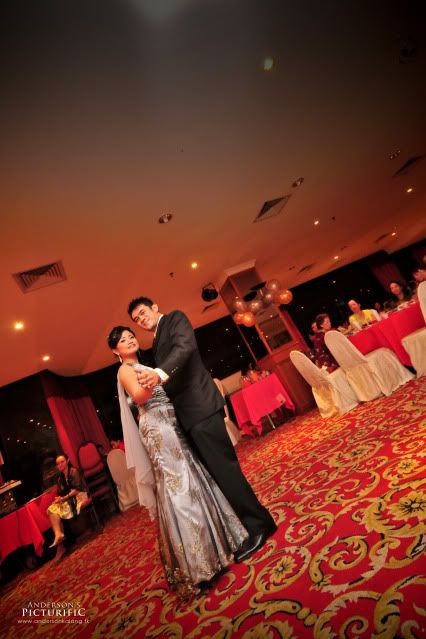 Shake it ladies.. shake it!!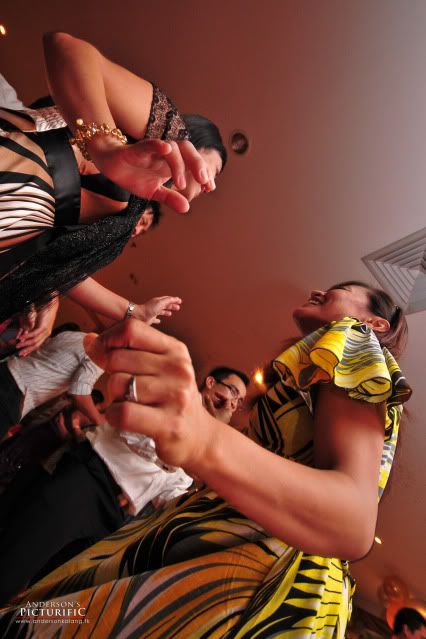 ..and the noise gets louder and LOUDER!!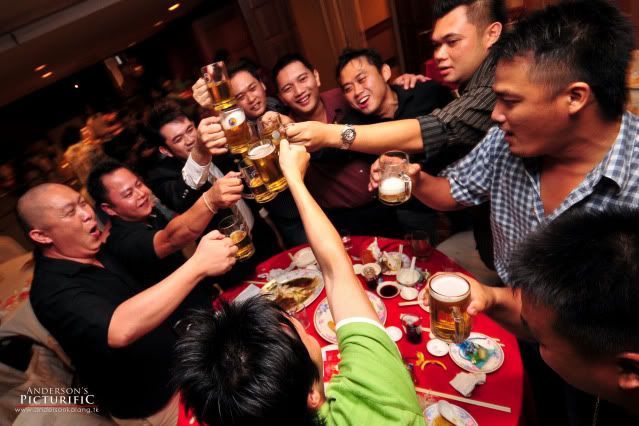 Even our Mr 'Emcee' was makin' full use of the stage.. Literally!



The groom didn't wanna miss it for the world too!



"WATTHA.."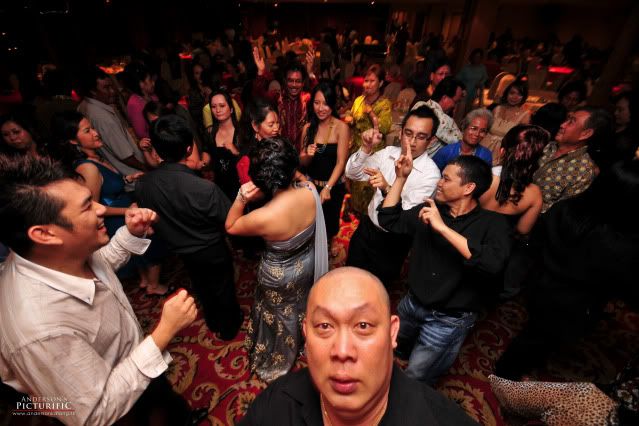 Terry, Vincent's brother, played lead with his bottle too.. Amazing sound he did!...Yeah right!



"YOU DOWN THERE, do the Twist!"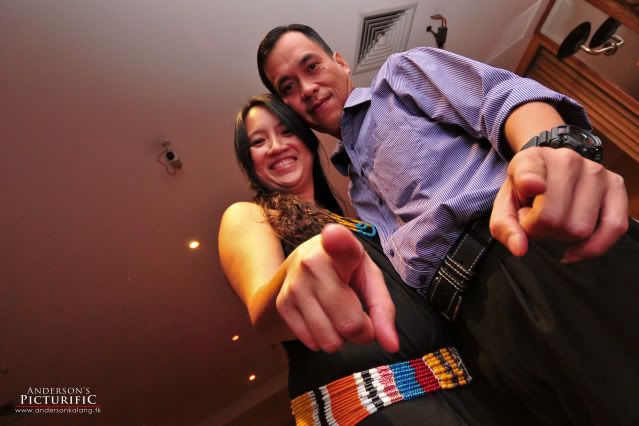 ..and we twist..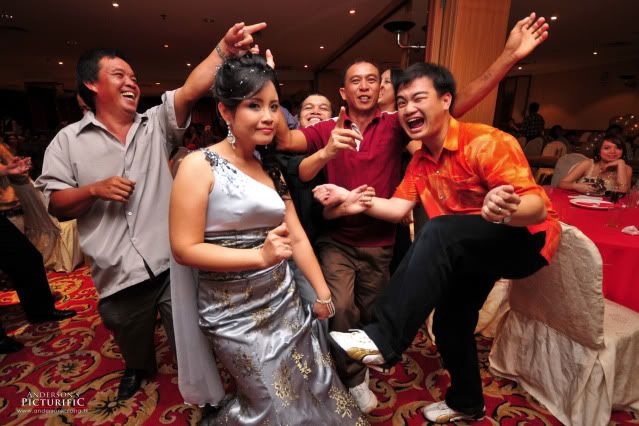 (Jenn had to take over the camera for a while)

Move it auntie.. Move it yeah!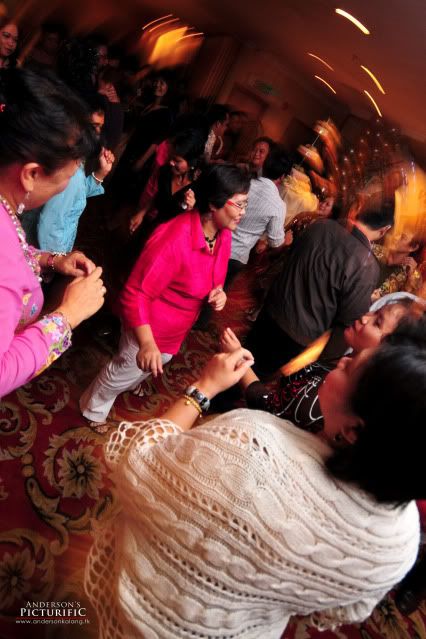 Rock on Y'all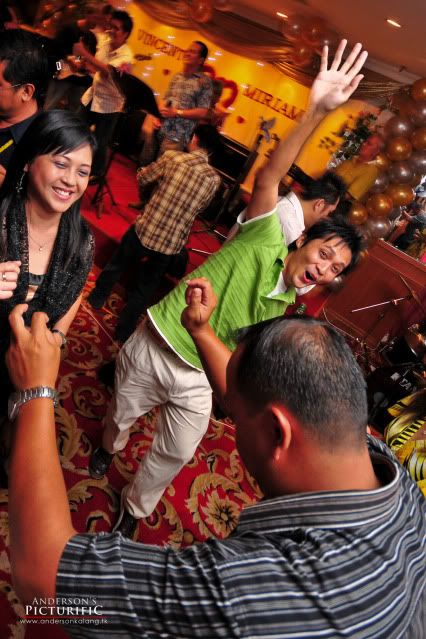 Here's an expression you don't get to see everyday!.. and NO, He's not drunk! He's just being normal by having a time of his life!! Hahahhaaaa... "We Love You Vince!"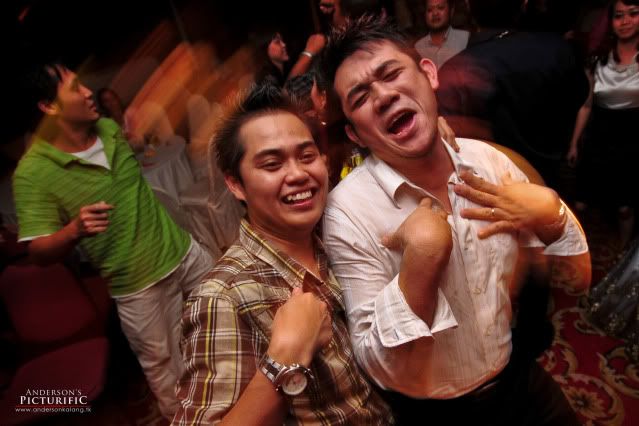 Vincent's mom (in pink) was leading the pack here..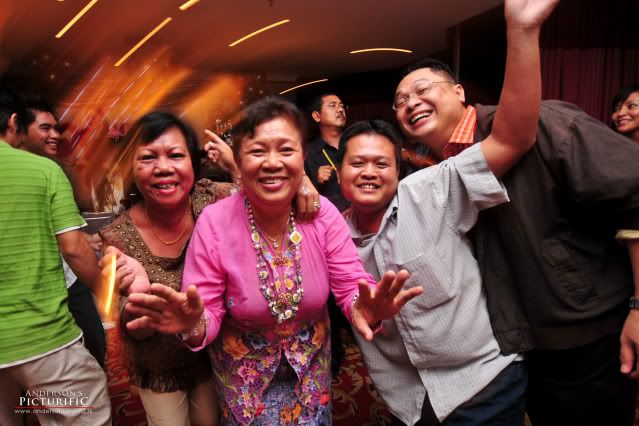 Freeze!!



..nop! They're not gonna stop yet..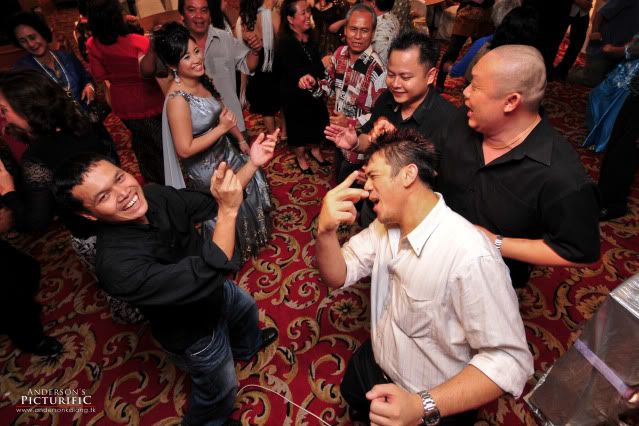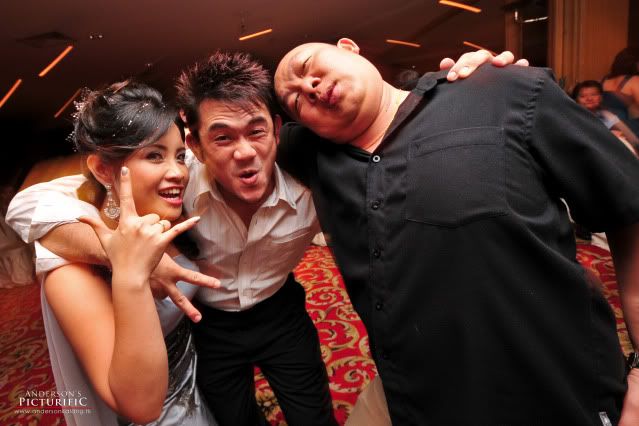 Check out that 'pint' guys!! Like I said earlier, I was not excluded during the 'sadong' session.. Good thing this was towards midnight and it was just a glass. Or else, I'd be returning to my room a HAPPIER guy, 'worshiping' the 'white throne of glory'!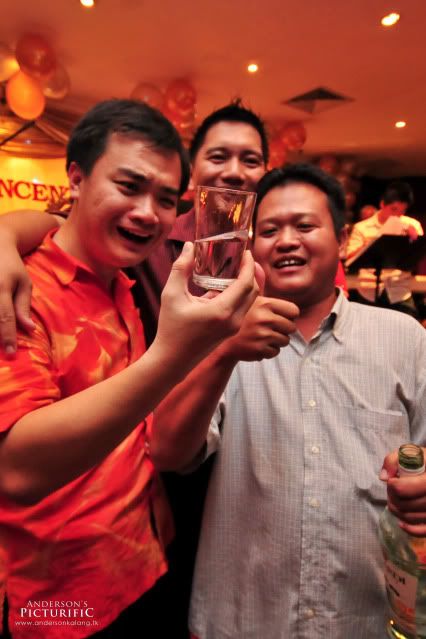 Yea.. yea.. bottoms up.. I get the message!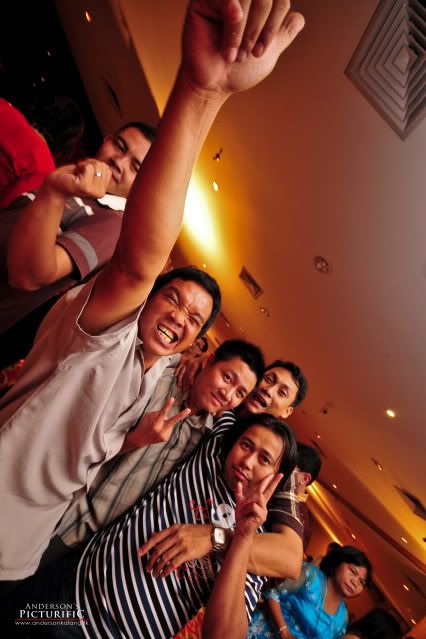 Finally, after all that body shakin activity on the dance floor plus the loud cheer from table to table, our couple still manage to give me few more poses to add to their memorable occasion.. and here is one of em to end.. Thank you!