My holidays will always be accompanied by impromptu assignments. Not complaining but I'm actually in awe of the appreciation I get when friends fully utilize my presence, from the artwork I've created of course. What means so much to me personally is observing people flipping the photos I did for them over & over again. I'd like to thank all of you whom have 'experienced' making memories lasts with me.

So, here's another session I did in KK. Also located somewhere around Tanjung Aru, I brought Stevenson to the same place I 'shot' Philip & Gevany coz he wanted to have something different from his usual concepts. Stevenson is an uprising musician based in KK. A good friend of the family, I was approached to do some shots to add to his personal collection. So since he's into guitars, I thought of not just do a 'face portrait' with him but to include 'his soul' in his photographs. So here goes the artwork!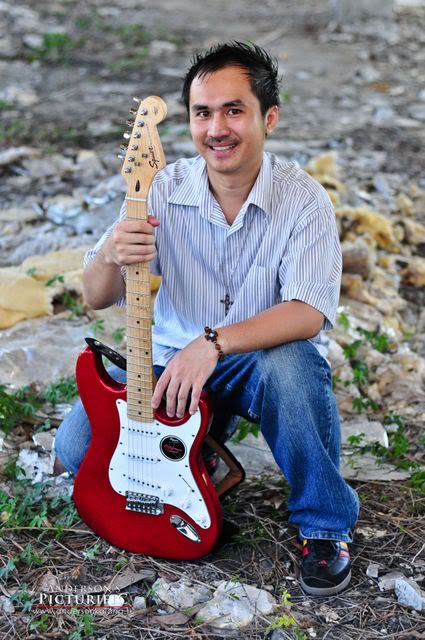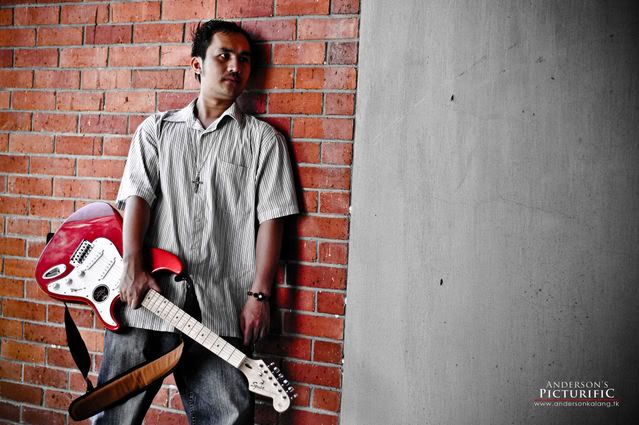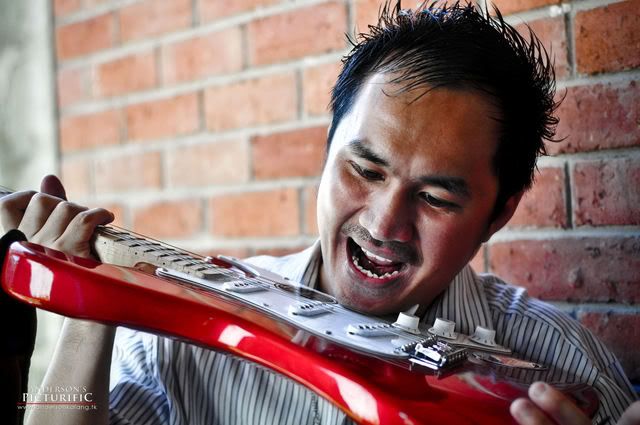 Here's a group shot of us presence at the location


(From Top Left : Yours Truly - ME, Stevenson & my sis-in law Janet)

Before I end this post, check out this story:

While I was on the ground (taking more shots of Stevenson of course).. a nice looking guy approached me. He said, "Anderson?".. then I was like, "Yeah..and you aaaaaaare...?" and he said, "George.. Jofanna Bridal?"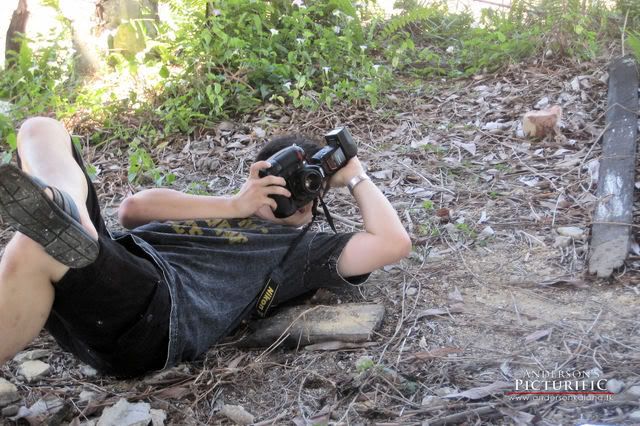 (Excuse my simplest attire here kay. For the 1/2 hour session, I went extremely casual! By the way, thanks Janet for the photo.. you're one fast learner babe!)

I halt for a sec! Imagine this guys.. I was at a 'left behind' building with no people around, quiet some more, suddenly someone approached and talk to you by the name, wouldn't that question you? I know I was! But then, when he mentioned his name was George, I somehow thought he look familiar.

If just now I was sharing about Stevenson, the uprising Guitarist, here's KK's uprising photographer, George & his mrs, of Jofanna Bridal whom happen to picked the same location for their photoshoot with a couple too!..(George has been in my list of contact blogger all this while but only met him in the flesh that day). I'll load some more shots in my next post. Gotta run now.. Gotta pack for our drive to KK tomorrow! Yup... we'll be in KK again so.. Call me! (number is on my profile above)